Long Island Eatery is an authentic New York style delicatessen, serving breakfast, lunch and hot dinner entrees.
839 South Kerr Avenue
Ph: 910.399.3637
Fax: 910.399.3638

Midtown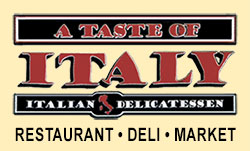 Looking for truly authentic Italian food made fresh daily—look to A Taste Of Italy for authentically prepared foods, a complete Italian Deli and Market open for breakfast, lunch and dinner.
1101 South College Road
Ph: 910-392-7529


David's Deli for over 30 years has served hearty, home-style food for breakfast, lunch and dinner to local regulars and visitors 7 days a week.
1984 Eastwood Road
Ph: 910-256-9070
Fax: FAX 910-256-2705

A Taste Of Italy-Italian Delicatessen
— 1101 South College Road
Chops Deli-A Delicatessen
— 130 N Front Street
Cousins Italian Deli
— 7 North Third Street