Wilmington's Midtown Economy Movie Theater
AMC Theaters is a national chain of popular movie theaters. The Wilmington AMC Theater (formerly a Carmike Cinema) is an AMC Classic theater and features most all of the popular and blockbuster first-run movies, from comedies, thrillers and horror flicks to occasional high definition concert films at economical prices.

AMC Classic Popcorn Bucket $20.99
AMC Classic Annual Popcorn Bucket is one Big Deal!
Buy the 2019 Annual Popcorn Bucket now and get refills for just $4.49 all year! Only $20.99* for AMC Stubs® members at your hometown AMC CLASSIC.
*Prices are subject to tax, limited time offer while supplies last, non-alcoholic drinks only.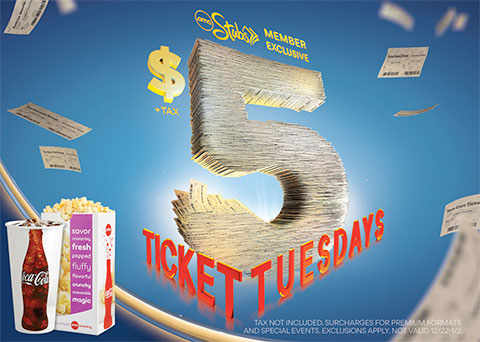 AMC Classic $5 Ticket Tuesdays
Extra, Extra – Read all about it! Every Tuesday take advantage of special concession deals and $5 Movie Tickets all day! Come in on Tuesdays to enjoy $2 Popcorn, $2 Drink, $2.50 Candy, and $5 off one of our fantastic concession combos (Large/Large Combo, Couples Medium Combo, Couples Large Combo, or our Nachos Combo). Get tremendous savings at AMC Classic every Tuesday.

Join FREE & Get Great Benefits
Become a member of AMC Stubbs Movie Insider Club and enjoy your second bucket refill for FREE on same day visits, along with many other great perks other benefits! Make your AMC experience even more amazing by customizing your AMC Stubs Insider profile today. By entering your information, like your email, birthday, and preferred theater, you'll get access to exclusive deals, specials and offers. Save money and have more fun when you join AMC Stubs for FREE and get insider deals! Get a free refill when you purchase a large popcorn, earn points towards even more rewards with every dollar you spend, and receive a free gift of popcorn for your birthday!
Let's Go To The Movies!
Midtown
111 Cinema Drive
Wilmington, NC 28403
910.815-0266
Get Directions