CONGRATULATIONS TO JOE S.—OUR WINNER OF THIS YEAR'S GIFT BAG CONTEST. JOE YOU'VE WON IT ALL.
WILL YOU BE THE 2020 WINNER? YOU MUST ENTER TO WIN!
Somewhere within our Directory of Local Businesses and Services here on AccessWilmington.com, we've hidden an icon of Santa's Gift Bag. Search and find this icon and then click to enter your name in the contest.
SEARCH FOR SANTA'S GIFT BAG AND ENTER TO WIN!
One winning name will be drawn from all entries on January 5th this year. Due to the delay in our start and to give more people a chanCe to enter. The winner will be notified by the email address they used to enter. All entries made between December 21, 2019 and January 4th, 2020 will be eligible. Enter only once, as duplicate entries from the same email address are automatically deleted. Winner must be 21 years of age or older to win. All prizes listed will be awarded as Gift Certificates or actual items provided by our advertisers. There is no purchase necessary to win. The winner will have 48 hours to acknowledge the Winner's Notification Email by return email. If the winner has not responded by the 48 hour deadline, a runner up winner will be contacted and awarded the Gift Bag of Prizes. Gift Certificates have varying expiration dates as specified by the advertiser. All Gift Certificates expire in 2021 and are void if not used by the expiration date stated on the Gift Certificate.
BEGIN YOUR SEARCH BY CLICKING ON SANTA'S BAG.
Co-Sponsored by

Good luck and happy hunting!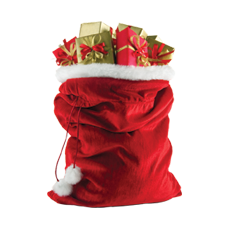 A Taste Of Italy – $25 Gift Certificate
Long Island Eatery – Deli Tray
Hibachi To Go – $25 Gift Card
Brooklyn Arts Center – Concert Tickets
Steam Restaurant – $50 Gift Certificate
Waterline Brewing Co. – Craft Beer Growler
Lazy Pirate – $25 Gift Card
Fu Wangs – Wings Sampler
Freddies Italian Restaurant – $35 Gift Card
Beau Rivage Golf Resort – Golf and Cart Foresome
I Am Salon – $50 Gift Card
Okami Steakhouse – $25 Gift Card
Yellow Dog Discs – $25 Gift Certificate
Might As Well Grill & Bar – $25 Gift Certificate
Good Hops Brewing – Growler of Craft Beer
Tequila Restaurant – $25 Gift Certificate
Pinpoint Restaurant – $50 Gift Card
Buffalo Wild Wings – Wing Sauces
Express Oil Change – Oil & Filter Change
Ida Thai Cuisine – $25 Gift Certificate
Italian Gourmet Market – $25 Gift Certificate
Slice Of Life Pizza – $25 Gift Card
Beach Blooms – Flower Arrangement
YOU COULD WIN IT ALL!