We Turn Wings Into Wangz!
If you're looking for great tasting chicken wings, made fresh-to-order, tossed gently in your choice of over 20 unique house-made Fu Flavors, from traditional Buffalo to wild Honey Mango BBQ, you're gonna love these wangz. We're a small kitchen in a small location, but we're big on flavor!
Try All Our Fu-Flavors:
Asian
Oyster Garlic Sauce
Korean BBQ
Sweet Chili
Lemon Pepper
Teriyaki
Spicy Honey Mustard
Sweet-N-Spicy
Honey Mango BBQ
Pineapple Habanero
Jalapeño Garlic*
Hot-Hot Sauce*
Honey BBQ
Garlic ParmesanSzechuan
Lemon Pepper Teriyaki
Chile & Garlic*
Chipotle*
Curry
Jerk
Cajun
Lemon Pepper Parmesan
Sweet and Spicy Chili
Sesame Ginger
Ranch
Honey-Chipotle
Wang-Fu Style
Honey-Lime Cilantro
Asian-Cajun*
Sweet Bourbon
Onion-Garlic-Jalapeño*
Old-Bay Dry Rub
Steak House
Carolina-Style
Sweet 'n Sour
Honey Garlic
Balsamic Honey Brown Sugar
Buffalo Garlic
*These sauces are for the Hot-Heads!
Discover Our Fu Wangz Specialties!
We also have lots of other great menu selections, like sandwiches, cheesesteak hogies, burgers, ribs, BBQ, fried shrimp and even homemade desserts.
Pick Up, Take Out or Delivery
You can order your wings and we'll have them ready in a jiff, order ahead and pick up, or we'll deliver (within our specified delivery zone).We're all about taking big orders to go, for the big game or the next party. Everybody loves our fantastic wings. $12 Minimum Order for delivery.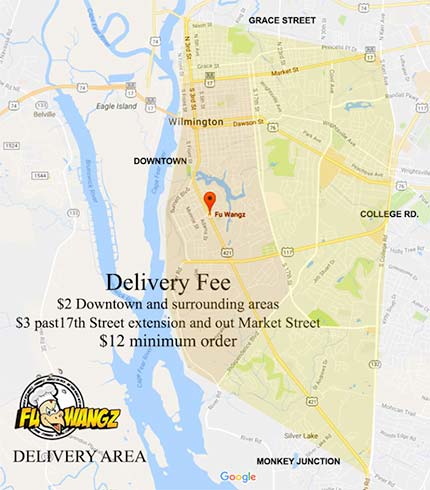 Midtown
2105 Carolina Beach Rd
Wilmington, NC 28401
(910) 228-9541
Get Directions