Wilmington's true beauty and health spa, a place of renewal for the body, mind, and soul, featuring Aveda products.

New Guest Special Offer
Get $10 off your first visit. Click here for Gift Certificate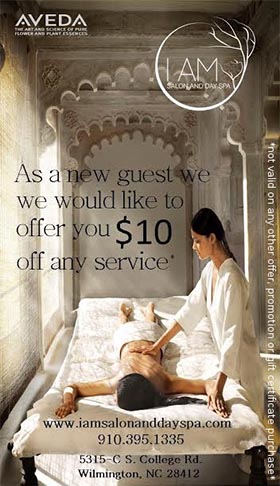 Sign up now and receive a gift certificate for $5 Off On Your Next Visit.
Join our email list to receive up-to-the-minute news and special offers. Get a $5 Gift Certificate just for joining now. Click the link below to sign up.
JOIN OUR EMAIL NEWSLETTER
When you arrive, please remain in your car and call us. We will come get you when your service provider is ready for you. We will be doing touchless temps at the door and sanitizing hands. Please wear a mask while in the building and do NOT wear gloves in. If you have a massage or esthetics appointment, you may remove your mask once in the the room.
Thank you!
Call now (910) 395-1335, or stop in…. book an appointment or purchase a spa package! We guarantee you will receive the best service ever, or it's free.
What We Offer
Facials
Aveda Customized
Men's Aveda Facial
Stress Fix
Microdermabrasion
Aveda Outer Peace Acne Relief
Aveda Tourmaline Skin Resurfacing Treatment
Aveda Green Science Skin Renewing Treatment
Aveda Lomi Back Treatment
Peels
Massage
Swedish Massage
Hot Stone Massage
Fusion Massage
3-in-1 Massage
Stress Fix
Couples Massage
Pregnancy Massage
Body Treatments
Hydrating Body Treatment
Body Wrap
Microdermabrasion for the Body
Eucalyptus Steam Shower
Hair Services
Shampoo & Style
Ladies' Shampoo, Cut & Style
Men's Shampoo, Cut & Style
Special Occasion Styling
Keratin/Aveda Straightening
Aveda Smooth Infusion Relaxing System
Intensive Restructuring
Color Hugh Lights/Low Lights

Full Panel Division ABC
Full Panel Division AC
Full Panel Division AB
1/2 Panel Division AB
Full Panel Division A
1/3 Panel Division A
Full Panel
1/2 Panel
1/3 Panel
• Color Cleanse
Color cleanse may be necessary when receiving a corrective color service. Color cleansing may also be needed when altering or removing tone or changing color levels. Great for removing color buildup and softening new growth in between highlighting services.
• Color Balance
• Color Tone
Waxing Hair Removal
Waxing
Brow Waxing
Lip Waxing
Chin Waxing
Full Face
Sideburns Waxing
Underarm Waxing
Full Arm Waxing
Chest Waxing
Back Waxing
Lower Leg Waxing
Upper Leg Waxing
Full Leg Waxing
Bikini Waxing
Brazilian Waxing
Lower Leg & Bikini Waxing
Full Leg & Bikini Waxing
Full Leg & Brazilian Waxing
Spray Tan
Aveda Make-up
Every Day Make-up Application
Special Occasion Make-up Application
Lash Tinting
Brow Tinting
Combination Lash & Brow Tinting
Nail Services

Express Manicure
Express Pedicure
Classic Manicure
Classic Pedicure
Men's Pedicure
Gel Polish Application
Paraffin Dip
Polish Change
Nail Art
French Tips
Monkey Junction
5315 South College Road
Wilmington, NC 28412
910.395.1335
Get Directions

Show us the I Am Salon Access Wilmington Page on your Smart Phone and receive 10% off any salon treatment or service Monday – Wednesday. Expires 12.31.20