August Specials – Book With A Friend
Book with a friend in August and receive a discount off each service. Both appointments must be performed in August, but don't have to be booked on the same day.
*not to be combined with any other promos or discounts
Microblading
Microblading is a tattooing technique in which a small handheld tool is used to add permanent pigment to the skin. Each microblading stroke is applied individually, allowing the technician to control the shape, color and density of the completed eyebrows. Microblading differs from standard eyebrow tattooing because each hair stroke is created by hand producing a thin, natural looking line that blends in with existing eyebrow hair, whereas, with eyebrow tattoos it is still done with a machine often producing thicker, less natural lines that tend to expand over time. Microblading is used to improve or create eyebrow definition, to cover gaps of lost hair, to extend the eyebrows, or may be used as a full reconstruction if the brows have little/no hair.
3 hours
$375.00 value for only $325.00!
Instant Gift Certificate
Book Online
Tulasara Elemental Nature Facial
This personalized facial is customized to your skincare needs and will stimulate your senses using Aveda signature blends
60 minutes
$85.00 value for only $60.00!
Instant Gift Certificate
Book Online
Microdermabrasion
An accelerated method of deep exfoliation which over a period of treatments helps to stimulate the production of new skin cells at its deepest layer, while peeling back the signs of aging.
30 minute session
$65.00 value for only $55.00!
Instant Gift Certificate
Book Online
100% Satisfaction Guarantee
I Am Salon full service salon and spa that strives to be the best, not only in Wilmington, but the surrounding areas. We stand behind and guarantee our work 100%. All services are provided by North Carolina State licensed stylists, nail techs, estheticians and massage therapists. All massage services are provided by North Carolina Licensed Massage and Bodywork Therapists.
New Guest Special Offer
Get $10 off your first visit. Click here for Gift Certificate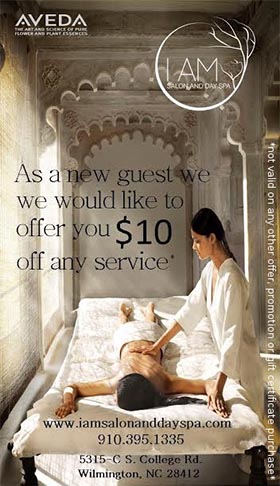 Sign up now and receive a gift certificate for $5 Off On Your Next Visit.
Join our email list to receive up-to-the-minute news and special offers. Get a $5 Gift Certificate just for joining now. Click the link below to sign up.
JOIN OUR EMAIL NEWSLETTER
"I Am"roll-on fragrances make great gifts! Nine scents to choose from!
I Am 'me'
I Am 'naked'
I Am 'blessed'
I Am 'free'
I Am 'hot'

I Am 'naughty'
I Am 'love'
I Am 'peace'
I Am 'true'

Call now (910) 395-1335, or stop in…. book an appointment or purchase a spa package! We guarantee you will receive the best service ever, or it's free.
What We Offer
Facials
Aveda Customized
Men's Aveda Facial
Stress Fix
Microdermabrasion
Aveda Outer Peace Acne Relief
Aveda Tourmaline Skin Resurfacing Treatment
Aveda Green Science Skin Renewing Treatment
Aveda Lomi Back Treatment
Peels
Massage
Swedish Massage
Hot Stone Massage
Fusion Massage
3-in-1 Massage
Stress Fix
Couples Massage
Pregnancy Massage
Body Treatments
Hydrating Body Treatment
Body Wrap
Microdermabrasion for the Body
Eucalyptus Steam Shower
Hair Services
Shampoo & Style
Ladies' Shampoo, Cut & Style
Men's Shampoo, Cut & Style
Special Occasion Styling
Keratin/Aveda Straightening
Aveda Smooth Infusion Relaxing System
Intensive Restructuring
Color Hugh Lights/Low Lights

Full Panel Division ABC
Full Panel Division AC
Full Panel Division AB
1/2 Panel Division AB
Full Panel Division A
1/3 Panel Division A
Full Panel
1/2 Panel
1/3 Panel
• Color Cleanse
Color cleanse may be necessary when receiving a corrective color service. Color cleansing may also be needed when altering or removing tone or changing color levels. Great for removing color buildup and softening new growth in between highlighting services.
• Color Balance
• Color Tone
Waxing Hair Removal
Waxing
Brow Waxing
Lip Waxing
Chin Waxing
Full Face
Sideburns Waxing
Underarm Waxing
Full Arm Waxing
Chest Waxing
Back Waxing
Lower Leg Waxing
Upper Leg Waxing
Full Leg Waxing
Bikini Waxing
Brazilian Waxing
Lower Leg & Bikini Waxing
Full Leg & Bikini Waxing
Full Leg & Brazilian Waxing
Spray Tan
Aveda Make-up
Every Day Make-up Application
Special Occasion Make-up Application
Lash Tinting
Brow Tinting
Combination Lash & Brow Tinting
Nail Services

Express Manicure
Express Pedicure
Classic Manicure
Classic Pedicure
Men's Pedicure
Gel Polish Application
Paraffin Dip
Polish Change
Nail Art
French Tips
Monkey Junction
5315 South College Road
Wilmington, NC 28412
910.395.1335
Get Directions

Show us the I Am Salon Access Wilmington Page on your Smart Phone and receive 10% off any salon treatment or service Monday – Wednesday. Expires 12.31.19