A Vinyl Lover's Candy Store
If you didn't already know, vinyl record albums have had a resurgence. Vinyl LPs now outsell CDs. Why, when you can stream just about any music you want off the internet, would you want to buy a record album? Because of the sound. Unlike digitized music, which is bits of the recorded sound, vinyl records reproduce the pure music faithfully as it was recorded and presses. The sound is so much more warm and listenable. So much so, that even used records that have been cared for are worth as much or in many cases more than new vinyl. Another factor is the nostalgia and the tactile sensation of records. The album art matters, the liner notes, the physical act of putting the music on. The listener is more focused and experiences the emotional high that music brings to life.
Yellow Dog Discs is a record lover's candy store—with new and vintage vinyl albums galore. For collectors, finding that rare wanted album on vinyl is heaven.
Now many new albums are being released on vinyl at the same time the digital version becomes available. Yellow Dog is on it, carrying the newest releases and new 180 gram versions of previously released albums from the 60s to the 90s.
Largest Selection Of Used Compact Discs
Searching for new music—maybe old music? You can't beat the value of a used compact disc. Often available for a few dollars, compact discs offer clean digital sound quality far superior in sound to mp3 streaming.
Yellow Dog to the rescue. Browse through hundreds of popular compact disc titles.
Recycled DVD Movies, TV Shows and Games
Love movies? Yellow Dog has a huge display of popular and rare movie titles on DVD. These gently used copies are offered for sale for far less than the original price when released. So next time you want to see a good movie or catch one you missed in the theater, come check out the selection at Yellow Dog Discs. Look over the selection of TV Series and Electronic Games too.
Record Player Equipment
As a music lover's paradise, Yellow Dog carries the equipment to get you started collecting vinyl records, including turntables, high-quality phono cartridges, record sleeves and record cleaners.
Trade-in Your Old Records, CDs DVDs and Games
Yellow Dog Discs will buy your old records from one album to a whole collection of albums. Each record is examined for wear and tear, scratches, cover condition and overall quality. Receive cash or in-store credit. Rare vintage titles pay even more.
The same goes for used CDs, DVDs, Blue Ray discs and Games. If it's payable and in good condition, they will buy it from you on the spot.
Funko POP
If you're into Funko POP (licensed pop culture collectibles, bet known for vinyl figurines and bobbleheads), Yellow Dog Discs is your headquarters in Wilmington. Visit tier website to look over the huge selection of POP figures available.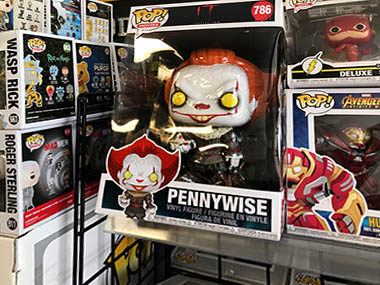 Midtown
351-1 S College Road
Wilmington NC 28403
(910) 792-0082
Get Directions